Clinical Records
---
Our Clinical module in AmeraCare offers a powerful, yet easy-to-use component to help you establish and maintain your resident's Electronic Health Record. We also have integration with other specific programs to enhance your EHR. Please refer to our Integrated Partners for more details.
With easy to follow menu options, it's simple to input and review data entry screens to maintain accurate clinical data. AmeraCare allows for easy monitoring of your records through ON-Screen Electronic Reporting that contains exporting capabilities to other formats.
Our Clinical module covers the following area's and is also integrated with AmeraCare's Resident Billing and AmeraChart modules to eliminate double entry that can cause potential errors and loss of revenue.
Admissions
Census
Diagnosis
Weights
Physicians Orders
Med Administration Record
Lab Scheduling
Flu/Pneumonia Records
MDS 3.0
Care Plans
Progress Notes
and more…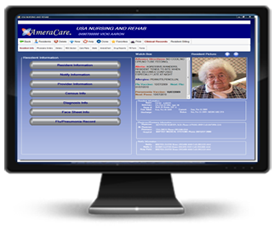 Today's difficult requirements demand easier to use systems like AmeraCare. Please Contact Us for more information.